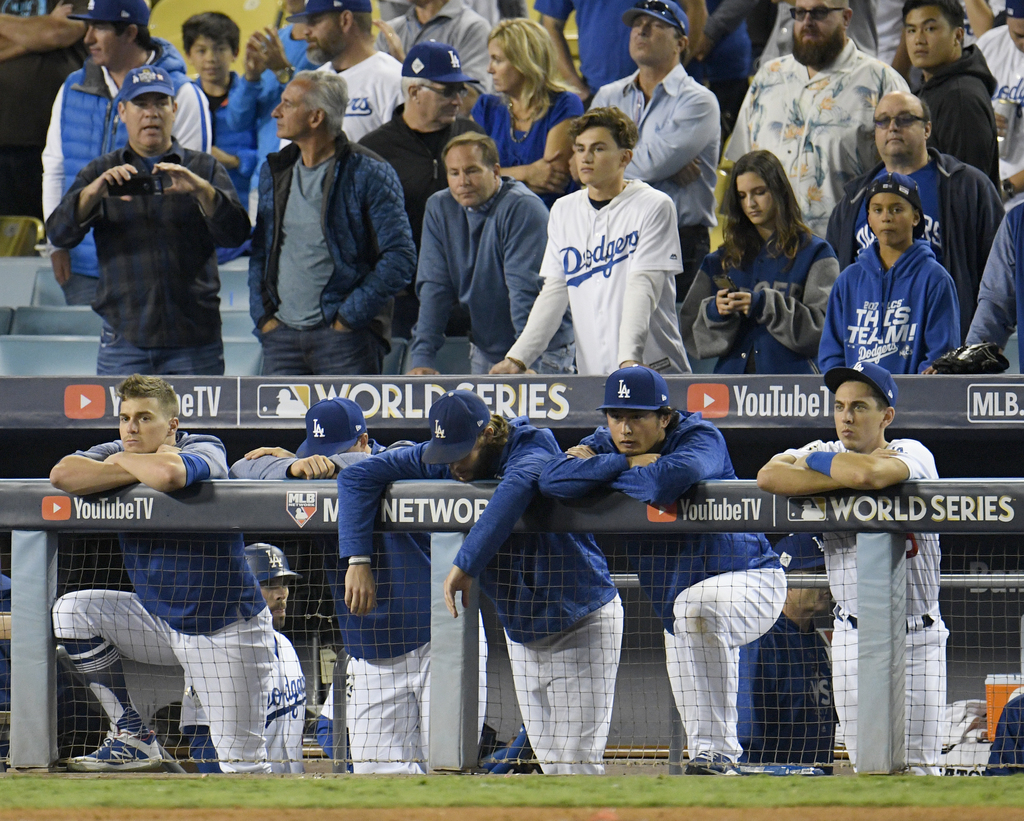 You never know how cruel sports can be until you face Game 7 of the World Series. It has been three days and I'm still thinking about how one of the best World Series best of seven games ended.
My heart is broken for my twin brother and my dad who are life-long, die hard Dodger fans. My mom didn't have a choice when she married my dad, she had to root for the Dodgers. I had to be the difficult child and went to the American League and became a Texas Rangers fan. When it comes to the National League, I root for my family's team; the Dodgers. I experienced back-to-back World Series losses. It hurt. It still hurts. I'd rather come in any place but second. Second place is the first reminder that you were so close to winning it all and still leaves you feeling like the biggest loser.
Please do not get me started about how it was okay to let Yuil Gurriel play during the World Series and then get suspended him for five games NEXT season??? That raciest bleeeeeeeep hole and his inappropriate gesture is the definition of exactly what is wrong with the world today. Do you think Gurriel gives a bleep if he is suspended for five games NEXT year? Heck NO! And I'm not buying the Gurriel tipping his helmet to Darvish in Game 7 was his way of trying to apologize to Yu. If I was Yu, I would have beamed him with a fast ball and said "oops, it slipped". Actually, I would have said a bleep you! But Yu has more class than I do and he just played the entire situation as if nothing ever happened. Hats off to Yu for being a class act.
Dodgers manager Dave Roberts will forever be haunted by what would have happened if Clayton Kershaw would have started. I feel terrible for Yu Darvish who was just not himself on the mound. Darvish had great stuff against Arizona for NLDS and against the Cubs for the NLCS. Darvish only pitched 3 1/3 innings combined during two starts of the World Series and allowed nine runs. "I
thought he was going to really throw the baseball well. And I think it was 3â…" [innings], maybe, in this series, and just very unfortunate. I know he wanted the baseball. I know he was prepared. I just can't explain the results. I really can't
." Said Roberts after game seven. In Darvish's 137 career starts, including the postseason, he has only had two starts where he failed to record a strikeout. Both of those starts were in this World Series.
Darvish came to the Dodgers from the Texas Rangers with minutes left in the trade deadline. As planned, he became a free agent on Thursday. Darvish said "
I would like to come back in the World Series, and I want to pitch better. It's tough, but personally I want to come back to the Dodger
s."
As a baseball fan, watching the two best teams go to a Game 7 in the World Series sure was entertaining. At times, it was completely nuts. The grit and heart that both teams played with was great for baseball. While the final score of Game 7 was 5-1, the game felt a lot closer. The Dodgers had six hits to the Houston's 5 hits and were 1-13 with runners in scoring position. They just couldn't get runners home.
Social Media hash-tagged the Dodgers as #ThisTeam. Clayton Kershaw said "
I have to continue to focus on my teammates. When you think about how close you were, it makes it too hard to think about. I try to maintain my focus on the guys in the clubhouse and how proud I am to be a part of this team, and just how special this team was and is.
" The loss is going to hurt for a while, but #ThisTeam will be back next year.
Home
>>
Alison's Blog
Top of Page