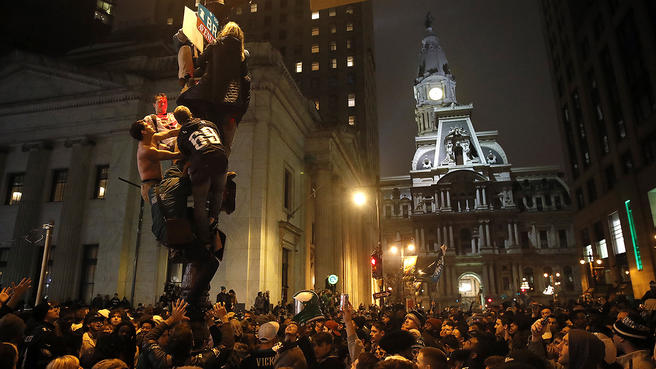 Only the Eagles had the power to make you root for the Patriots in Super Bowl 52. It felt like football fans were more excited for the Super Bowl parties, commercials and Justin Timberlake than the actual game. When two teams no one wants to see win are playing its no surprise that TV ratings were down 3% compared to last year and the lowest since 2010.
When your city officials have to grease the street poles to (try) and prevent fans for climbing them, you know you have animals for fans. I just don't understand the concept of trashing and burning your city as a way to celebrate. But then again, most of us non-Eagles fans act like humans who have won before. Punching and stealing police horses, looting a Wawa, setting fires, and making the awning of the Ritz Carlton collapse, really? The only nice place is Philly has collapsed. Screw it, just burn the whole city down. Even the people who live there don't care about their city.
While the Redskins haven't had much to brag about in the last two decades, we could always hold up three fingers to represent the number of Super Bowl rings the franchise has won. The Eagles had zero rings. I preferred it to stay that way. It was all we had on them. Now, that's gone and one of the worst fan bases in professional sports finally has something to brag about.
Nick Foles wasn't sacked once and the Patriots were never out of the game. They are never out of the game until it's over. But for three, long minutes we still have to review and debate what the hell a catch is. For the love of the game can we please define what is a catch in the offseason?
There may even be a bigger debate over which commercial was the best and if JT's halftime show was hot or not. While I laughed at Eli Manning's first two commercials, mostly because they were just awkward, I felt so uncomfortable watching the Dirty Dancing spoof with OBJ. At least we will never have to see them on Dancing with the Stars after that poor attempt to bust a move. While they stuck the jump, I'm convinced it was photo-shopped. No way Eli is really that strong and that OBJ had that good of form in the air. The Amazon Alexa commercial was hands down the best commercial! I don't even know how this is even a debate. (I hope Apple takes a cue and gives Siri voice options. I'd pay to pick a celebrity voice over Siri.) Halftime was just okay for me. I was too distracted by all the moving, not really singing and that awful outfit choice.. Lady Gaga was hands down better in last years performance. And we were all waiting for a surprise guest to appear. We are still waiting…
The only good thing about the Eagles win is that for the ninth straight year, a former University of Tennessee Vol has won the Super Bowl. I'm happy for Derek Barnett to finally know what it is like to win in football. Also, congratulations to Alvin Kamara for winning the NFL Rookie of the Year Award. When you see these kids do so well at the next level, it just highlights how underused they were by a terrible coach at UT.
As a very salty Redskins fan, I'm only going to say this once. Fisher, Ally, Basilio, and MatyRay; Congratulations. (I just threw up a little.) I think the rest of the fans are right up there with Bills Mafia and they should be deported, but what country would even take them?
For more info visit www.alisonstclair.com
Home
>>
Alison's Blog
Top of Page